For a domain registration, the SK-NIC system requires to have at least one authorized registrar registered in SK-NIC. The number of authorized registrars is not limited. If you wish to add Platon Technologies as authorized registrar, do the following:
Go to www.sk-nic.sk, click on the F7 form – Zmena údajov užívateľa (Change of User Data). Fill in the required data on the right side and click Send.

Your identifier data available for editing will appear. Go the last section Oprávnení registrátori (Authorized Registrars). Enter the identifier PLAT-0008 in the empty space. Click on Odoslať (Send) and confirm the displayed data.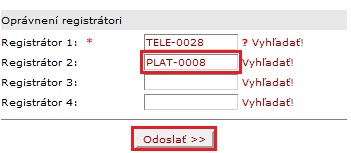 Print out the form and have the signature authorized by a notary. Then send it to SK-NIC´s contact address:

SK-NIC, a.s.
P.O.BOX 49
840 00 Bratislava 4