Dear customers and business partners,
company Platon Technologies, Ltd. has become payer of Value Added Tax as of January 1, 2007 .
Our company was assigned following Value Added Tax identification number.
We hope that you will keep your favour and sympathies for us also in the comming year 2007.
Best regards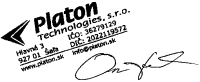 Ondrej Jombik
Platon Technologies, Ltd.
CEO